Since the takeover by the Houthi rebels in Yemen hundreds of innocent children have been killed and hundreds more injured.
Apart from the direct impact of the conflict on children at risk, a million children are exposed to serious diseases, which are preventable by early intervention and treatment. Alongside the risk of infection, these children run the risk of severe malnutrition if not urgently cared for.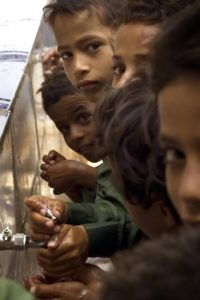 Approximately 130 UNICEF staff are currently working in Yemen together with our partners, in order to reach these children in the most badly affected areas and offer the maximum care.