HOW UNICEF HELPS CHILDREN AROUND THE WORLD
Today, thousands of children will die from diseases that are easy to prevent. Thousands more will die because they don't have the food they need to live and grow. And yet more will experience unspeakable violence.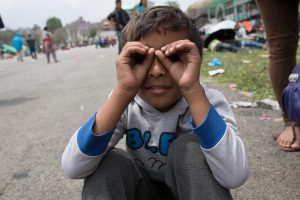 UNICEF keeps children safe by providing vaccines against deadly diseases, distributing mosquito nets and by promoting safe hygiene in communities around the world. We are the world's largest supplier of emergency life-saving food for children. And we campaign tirelessly to end violence against children.
Here are some of the most frequently questions we receive about making a donation to UNICEF.
We rely entirely on voluntary donations, so we want to make supporting UNICEF as simple as possible.
If you can't find the answer you need on this page, please call our Supporter Care  074-7034449
How your money saves a child's life
We are able to help the children of the world solely through voluntary donations, so it is important to us that you have it easy and simple to support us.
So you can find all the questions you wanted to ask about donating to UNICEF:
If you did not find what you were looking for then just contact us at [email protected] and call 074-7034449.